VIP Pro Vibration Therapy Machine
Save 20% on all orders over $100 – Coupon "BlackFriday20" automatically applied at checkout.

Dual motor, professional vibration therapy machine
This professional vibration machine gives you a full body workout in just minutes. Pivotal vibration is very popular with fitness professionals as well as therapy by medical professionals. Nerida Joy recommends Vibra Therapy to skincare professionals as one of the primary benefits is to help promote lymphatic drainage.
Understanding Skin Tour Special
Retail Customers
Retail Customers receive $500 off.
| | |
| --- | --- |
| Brand | Vibra Therapy |
| Motors | Dual |
| Display Type | LCD |
| Warranty | 2 Years |
Boosts Lymphatic Drainage, Decreases Stress Levels, Helps Release Toxins, Helps Tendonitis & Ligament Rehab, Improve Balance & Flexibility, Improves Metabolism, Improves Posture Stability, Increases Blood Circulation, Increases Bone Mass Density, Reduces Cellulite, Reduces Osteoporosius, Relieves Arthrities & Fibromayalgia, Relieves Back & Neck Pain, Strengthens Core Muscles, Tones & Tightens Body
To purchase the Vibra Therapy VIP Pro, submit the purchase form. Our exclusive pricing for our customers will be applied based on your account type.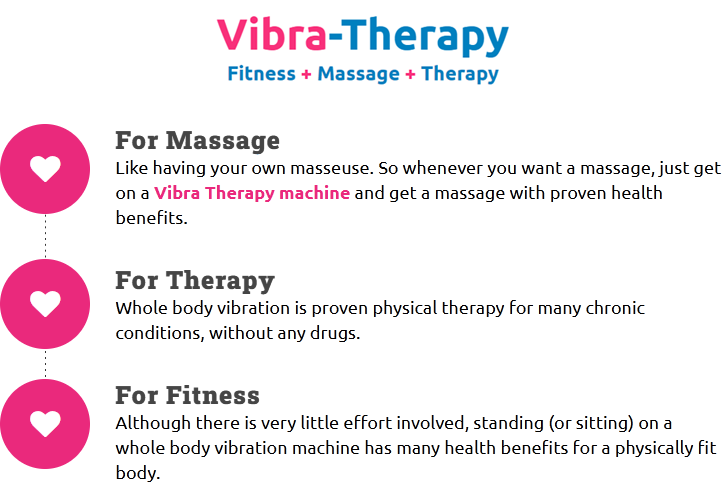 What is Vibration Therapy
The theory behind vibration exercise equipment was developed for the Russian space program in 1960s because the cosmonauts needed to exercise while in zero gravity space. No gravity means there is no resistance to workout muscles, and with months in space, could result in muscle deterioration and loss in bone density. To combat this, the Russians came up with a vibration exercise.
You merely step onto the platform, you can stand, sit, lie down, or even focus the platform on specific body parts. The platform creates a vibration, which is sent through the body. In reflex the muscles contract. This causes tendons to stretch, and increases blood flow and improved blood oxygenation. This strengthens and tones without effort on the person's part. since the vibrations get sent through the entire body, all the muscle groups are affected.
| | |
| --- | --- |
| Brand | Vibra Therapy |
| Motors | Dual |
| Display Type | LCD |
| Warranty | 2 Years |